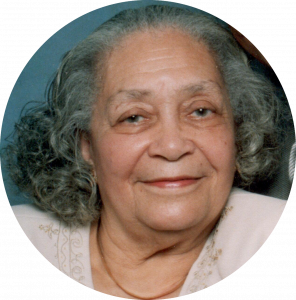 Viewing: Monday, November 23, 2020
Time: Noon – 9:00 pm CST
Joe Morris & Sons Funeral Home
Address: 701 N. DeVilliers St, Pensacola FL 32501
Phone: 850-432-3436
Virtual Funeral: Tuesday, November 24, 2020
Time: 2:00 pm – 2:30 pm CST
Click: https://www.facebook.com/joeMorrisFuneralHome/
In light of the extreme rise in COVID-19 we ask that you attend the funeral virtually. Although we wish we could see you all and celebrate Evelyn's life together, in honor of her memory, let's take care of each other and make sure that we're all safe.
---
In lieu of flowers, the family prefers donations to be made in honor of Evelyn Marion Brown Joseph through the button below. We will donate the money to an art or educational organization.
Obituary
Evelyn Marion Brown Joseph, 92 of Pensacola, Florida transitioned on November 18, 2020, with her family by her side. She was born to Henry James Brown and Evelyn Call Brown on January 4, 1928, in Pensacola, Florida. Evelyn graduated from high school then went on to receive a Bachelor of Arts and a Bachelor of Science in Education from Central State College. She continued her studies doing graduate work in education from several universities including Towson State University. She married Robert Lee Joseph on March 16, 1957, and at the time of his death, they had been married for 46 years. Out of this union came two children Robert Leo'nard' Joseph and Jacquelyn Elaine Joseph.
Evelyn was an educator in every sense of the word. She taught in the Escambia County School District for more than 30 years. She began her teaching career at Goulding Elementary School. She then moved to the Homebound Program where she spent the majority of her career teaching exceptional students in home and hospital settings. Evelyn taught students from kindergarten all the way through high school. She remains in contact with one of her long-time students to this day. Evelyn spent the last few years of her career as the primary teacher for the Florida House, an in-patient substance abuse treatment program for adolescents. Evelyn liked to say that she received quite the education from her students. She was devoted to her students and to the love of learning and acquiring knowledge.
Evelyn was a groundbreaking member of Christ Episcopal Church beginning in 1966. She was the first African American member of Christ Church. She was the first African American member of the Vestry, appointed by Rev. Dr. Beverly Madison Currin, church rector, despite some opposition. She went on to become an integral part of the Christ Church family. She was involved in the ministry for Christian education, bringing innovative activities to the curriculum. Evelyn enrolled her children in the Episcopal Day School, where they were the first African American students to attend. She was the first African American elected to the school's Board of Directors. She was devoted to her church even during the years when she was unable to attend in person. The Christ Church community returned this devotion through regular visits, cards, and phone calls.
Evelyn was an artist. She created a unique form of art using discarded pieces of broken glass to create beautiful pictures. Her most ambitious work being a 3'x5' depiction of Jesus entering Jerusalem on Palm Sunday. Her creativity knew no bounds. She was always finding ways to use regular objects around her, some other people would label as trash, to make something new. Evelyn spent many years as the Art Director for Camp Beckwith, which was the summer camp for the Episcopal Diocese. She shared her love of art with many, frequently teaching art classes to both children and adults through various organizations.
Evelyn was an active member of her community serving on many boards to include the Head Start Program, Northwest Florida Girl Scout Council, West Florida Regional Library Board, Pensacola Arts Council, and United Ministries of Pensacola.
Evelyn established and maintained a family museum chronicling the history of the Brown and Joseph families going back several generations. Much of this family history is an integral part of Florida and Pensacola history. It has become a reference source for local historians. The legacy is being continued through her children.
In addition to her children, she is survived by three grandchildren: Robert Luke Joseph, Joshua Ryan Joseph, and Motiri Niwaju Joseph-White. She is survived by numerous nieces, nephews, great-nieces, great-nephews, other family members, and countless friends who loved her.
Great-Niece, Eugenia Brown helped care for her lovingly in Evelyn's final days. Niece Carolyn McBride was a companion for many years. Vanessa Knight entertained Evelyn annually at Thanksgiving. Ann Davis kept Evelyn connected with daily telephone calls for many years. Carmen Jones brought Evelyn smiles and laughter with frequent visits. Caregivers Chevalia Francis, Amanda Smith, and Mary Mack pampered and spoiled Evelyn so she could remain in her home.
She will be loved and missed, but the impact she had on countless lives is a testimony to her character and kind spirit.
The family will be having an intimate graveside service to honor Evelyn.